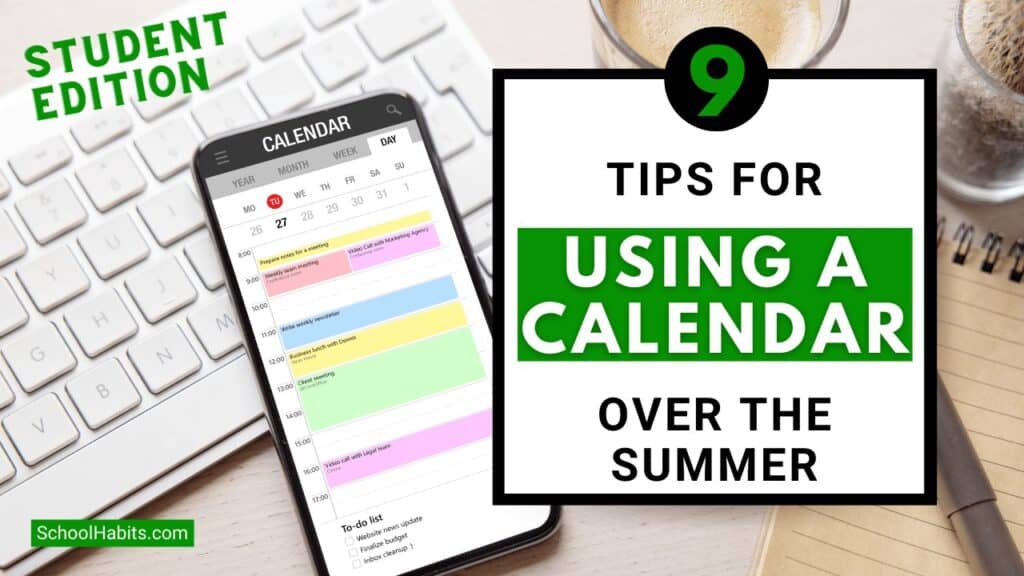 We use calendars to keep organized, remember key occasions, arrive on time, and conduct ourselves in a socially acceptable manner. I advise middle school pupils to start utilizing calendars so that they are calendar ninjas for high school and adulthood. The earlier you begin utilizing a calendar, the better; if you are delaying until until the start of the school year in September, I dare you to begin now, during the less demanding summer. You must understand there is a difference between an assignment notebook and a calendar. It makes great sense to use a calendar throughout the summer because they are not the same thing.
Digital vs. analog calendars
Super common question: which type of calendar (digital or analog) is better? Super annoying but accurate answer: it depends. There are pros and cons for each type. You have to figure it out for yourself. It's also possible to use both, as long as you're diligent about integrating them when needed. Try them both for a fair amount of time (3-6 weeks), and then commit to something.
Tips for using a calendar over the summer
You already know that calendars are not for assignments or tasks if you read the article I linked to earlier. Calendars are used for events that must take place at a specific time or on a specific day. Whether or whether you have summer school obligations, the following advice will help you make the most of your schedule this season. Some of the advice is on what to put on your schedule, while others are on how to make the most of your calendar.
1. Organize and plan your summer reading schedule.
Here are several suggestions for creating a reading program for the summer. The general rule is to divide the number of pages in your book by the number of days you have to finish it (your deadline). that many pages a day, reading. Create an event for this activity on your calendar. (I mean, when did you anticipate it would occur? Reading is technically a performance, right?
2. Schedule your work hours.
Have a summer job? Put your work hours in your calendar. Do you babysit or mow lawns? Put those hours in your calendar.
3. Schedule appointments.
Whether you book your own appointments (haircut, dentist, oil change, etc.) or a parent does that for you, know when they are and put them in your calendar.
4. Plan summer workouts.
Use your calendar to track your captains' practices or summer workouts. If you work out on your own, using a calendar for this purpose can motivate you to reach your health goals because you will see a visible representation of your progress.
Don't break the chain
 – ya know?
5. Manage summer school work.
If you're taking summer classes or if you have summer work for AP courses, use a calendar over the summer to plan when you have to be in class and/or when you will complete your assignments. Here are some
tips for taking college summer courses
.
6. Set digital reminders.
If you're using a digital calendar, set a digital reminder for events that require advance reminders. If you're using a paper calendar, you can still use digital reminders for important events you don't want to forget.
7. Check your calendar regularly.
If you don't check your calendar regularly over the summer – at least once per day – then you won't
trust
it. In other words, if you don't check your calendar regularly, you might as well not use one at all (which is not a good option!).
8. Add events immediately.
If you schedule an event or an appointment, add it to your calendar right away. Don't tell yourself you'll add it later because you're just a human and you will forget.
9. When in doubt, put it in the calendar.
It occasionally happens that we have an event that theoretically we don't need to add to the calendar because we will never forget it: our birthday, holidays, vacations, an occasion you've been anticipating for so long that the date is permanently etched in your memory, etc. I continue to insist that you mark these days on your calendar in order to create the habit. The secret to managing your time and responsibilities is to develop a routine of utilizing and monitoring your calendar at all times.
Also Read
:
Best Paying Jobs in Consumer Durables
What Do Consumer Non-Durables Jobs Pay?
What Do Consumer Durables Jobs Pay?
The Best Paying Jobs In Basic Industries: Which One Is Right For You?